The studio that has no roof (February 2016 - June 2017) is an integrated garden, artwork and workshop programme commission; at Bracken Educate Together National School, Balbriggan, county Dublin. Working with architects zero-degree machine, and gardener Niall Maxwell; the project involved the creation of an outdoor space designed to support social and creative activity with the school children. The space was then activated through a whole-school contemporary-arts workshop programme with artists Stephen Brandes, Dragana Jurisic, Elaine Leader, Aideen Barry, Amanda Coogan, Beth O'Halloran, Eamon O'Kane, composer Slavek Kwi and designers Superfolk. As part of the development of the garden as a place to encounter contemporary art(s), the commission of three site-specific permanent artworks by artist Atsushi Kaga also happened (details below), and were informed by a set of workshops the artist did with one 5th class.
....
VIDEO
The outdoor space was designed by architect Donal Lally (zero-degree machine) in collaboration with gardener and horticulturalist Niall Maxwell.
....
ATSUSHI KAGA ARTWORKS

Atsushi Kaga has completed three permanent artworks for the school garden.
Mushroom Pickers and Tinkerbell-m are bronze statues. Mushroom Pickers features familiar characters from Atsushi's work – Cat and Bunny. Tinkerbell-m is an entirely new character created specifically for Bracken Educate Together NS. The idea arose through Atsushi's workshops with 5th class students and was inspired by principal Marian. Oftentimes, bronze statues are large and imposing, but in these artworks they are small, 6 inches in height.
In his neon work I was here! he elevates the commonplace scribble often seen on the exterior of copybooks to a large and permanent position on the wall of the garden. The style of the text is based on the 5th class children's own handwriting.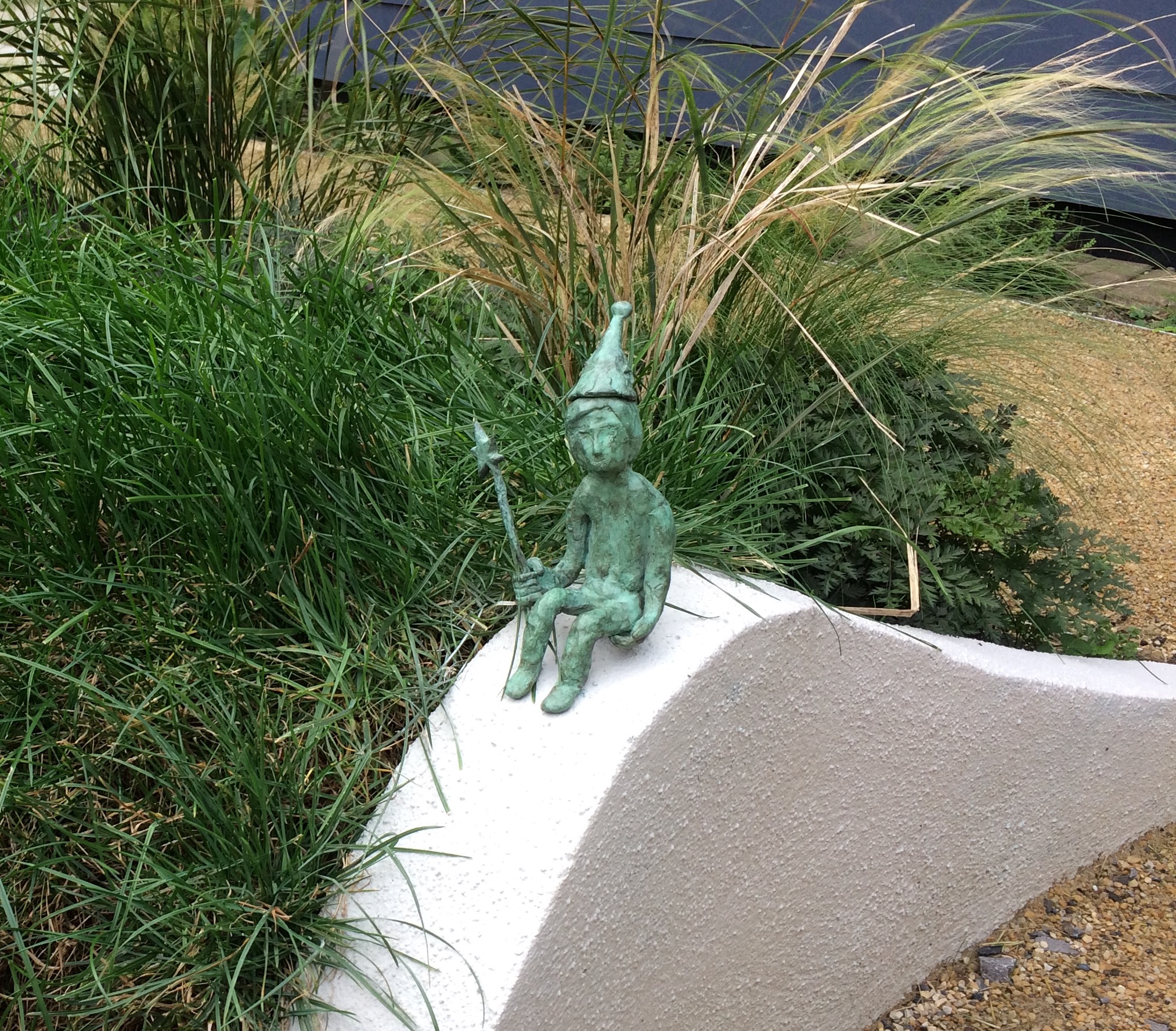 ....
WORKSHOP PROGRAMME

Beth O'Halloran
Drawing Everywhere
Junior Infants
30h May 2017
In her drawing workshop Beth and the children looked at how drawing and line can be seen anywhere, when one takes time to look... The primary goal was to enrich the children's interaction with the natural world and to connect with unconventional ways to draw – a central tenet within contemporary visual arts practice. Beth began the workshop by showing images of cobwebs, raindrops, fiery sparklers, snail trails, Vik Muniz's cloud artworks, seagull poo and rainbows. She introduced them to the idea that animals might draw with their bodies. She read the children the story 'The Snail and the Whale' by Julia Donaldson, where a humble little snail writes (or draws) an important message for his whale friend. The children and Beth then went into the garden to investigate for themselves what animal traces might be waiting to be discovered. Beth broke the children into three groups. The first group explored the garden with magnifying glasses looking for worm mounds, bird droppings, a snail or slug trail, bird footprints, feathers or whatever they might find... After this they took a cup of seeds and made their own trails or traces about the garden. The second group came together to draw on a large sheet of paper, fastening crayons to the underside of their shoes, and, mimicking the trails of animals, they walked across the page to create lines with their feet. The third group were given a cotton bud and an A4 sheet of white paper. They dipped the cotton bud into a mixture of lemon and water and made invisible drawings which were later revealed when dried and warmed (by a lamp). After a little while doing each activity each group swapped around so that every child did all activities.
....
Elaine Leader
Playing with Scale
Senior Infants
13th June 2017
The aim of Elaine's workshop was to introduce students to the language, tools and processes that artists and architects engage in the creation of ideas and designs, and the usefulness of creating architectural models as part of this process, both as a way of generating and testing ideas, as well as a tool for presenting. Elaine introduced various artists' works including her own, which involve model-making, drawing and large scale installations, as well as works by artists Thomas Demand, Monica Sosnowska and Do Ho Suh. The children then created their own architectural models of spaces using a range of materials which Elaine had pre-prepared. Students were invited to create their own 'shelter' or architectural space, with each child receiving a foam board base on which to create their work. The students produced diverse and exciting works which they then placed in the garden to display for each other.
www.elaineleader.com
.....
Superfolk
Animal Detectives
1st Classes
2nd May 2017
Superfolk's workshop gave consideration to what animals we share our locality with, as well as to seeing the intriguing traces they leave behind, visible when we take close inspection...Firstly, Gearoid Muldowney and Jo Anne Butler introduced themselves to the class as designers who live on the west coast of Ireland. They told the children about their walks with their dog Woody on the beach, and how they look for inspiration on these walks, for their work making furniture and homeware. They told the children how they sometimes like to be 'animal detectives' too. 'What clues would you look for to see if animals had been around?' they asked the children. 'Fur, feathers, crumbs, footprints, skin shedding, nests, dens, droppings, smells...' they offered. They showed the children images of animal tracks in the mud, the sand and snow and the children guessed at the type of animal from the hoof / foot / paw print in evidence. After the discussion they went out to the garden to search for animal prints that Superfolk had previously hidden in various spots throughout the garden. The students' task was to find the prints and then to use their newly acquired knowledge to identify what print belonged to what animal. Back inside the classroom they created individual stamps which they used to print their own set of animal prints.
....
Eamon O'Kane
Making Architecture and Animation
2nd Classes
14th June 2017
Eamon shared with the children images from his own diverse and rich portfolio of work - animations, paintings, drawings, sculpture, installation. He gave a fascinating talk about play, science, Frederich Froebel and his impact on great artists, architects and desigers such as Frank Loyd Wright, Charles and Ray Eames, Buckminster Fuller and Johannes Itten. He shared images of work by architects Zaha Hadid, David Adage and Eileen Gray. He and the children then made structures and figures that they used to create basic stop-motion animations.

....
Amanda Coogan
The Chase
3rd Classes
16th May 2017
In these workshops, performance artist Amanda Coogan and participating children used costume, props, music and gesture to create wildly imaginative performances that took place in the garden. Amanda started her workshop by showing the children some images of her work, bringing attention to the use of costume and props to create character. She told the children how she made these costumes and props herself. She introduced the idea of gesture or 'action' through 'dabbing', a move that all the students knew well. She then played Bach's Harpsichord Concerto in D minor and asked them what kind of scenes the music evoked in their imagination. Prompting them with questions such as 'Where is it? Is it a forest? What's happening?', themes of jeopardy and pursuit emerged: animals being chased by a king who wanted to eat them, animals running from the pound, the titanic; witches, wizards, ninjas, fairies, robbers - all chasing through the forest. Within the classroom and garden each of the two classes alternatively created an installation of a mountain and a river; and a series of vivid costumes. Performances took place in the garden. Amanda gave opportunity for free-play as a way of facilitating the imaginative process.
'I loved it! It was so much fun making costumes and when we went outside and acted. We saw what Amanda made. It helped me learn how to plan and work with my friend without arguing.'
- 3rd Class student, 9
'I loved the art workshop. I liked the part where we got to go outside and act. I liked every single thing and I learned how to make a ninja suit'
- 3rd Class student, 9
.....
Aideen Barry
Animation Magic
4th Classes
15th May 2017
In Aideen Barry's workshops she invited participating children to make individual drawing animations and a collaborative stop-motion animation. For her drawing animation workshop she showed the students some of her animations including a work titled Levitating where she appeared to be hovering above the surface of the ground as she went about her day. She asked the children how they thought she created this effect. One student correctly suggested that she took a series of photos of herself jumping and then pieced them together to create an animation. She told them that it took 12 images to make one second of an animation. Giving the students 12 sheets of animation paper she asked them to close their eyes and imagine something happening in the garden that they could turn into an animation - ants battling, spiders spinning, flowers growing, worms wriggling....She talked them through each step of the process by showing them a one-second animation she had made. When the children had their drawings complete Aideen photographed each one and used istopmotion to turn the drawings into animations. In her next workshop the class watched Possession - a work of Aideen's in which a character (the artist) appeared to be slicing a loaf of bread with a mechanical garage door - and MUTO - an animation created from drawings on public walls by Brazilian artist BLU. Aideen and the class discussed how these were made with a series of still images. The class then made a collaborative stop-motion animation using cardboard boxes as props.
'I liked that when we drew the picture came alive like magic. I learned that you can draw and then put it on the computer and it can become real'
- Student, 10
'I really liked the short film Levitating and the one where she was eating the cake and I loved that we could make our own cartoons'
- Student, 10
....
Slavek Kwi
Relating through sound
Radharc 1 - 4
21st October 2016
In Slavek Kwi's 30-minute workshops children experimented with a range of noise-making objects (including musical instruments). As they played and listened, Slavek would listen and make sounds in response. Sometimes a musical improvisation would emerge. The objective of the activity was to foster well-being by raising awareness of the sound environment and prompting personal connection through co-creation.
....
Dragana Jurisic
People and Portraiture
5th Classes
6th October 2016
In Dragana Jurisic's workshop children were introduced to the basics in photographic seeing and visual storytelling through portraiture. Dragana presented to the children images of work by famous photographers throughout history - Vivienne Meyer, Dorothea Lange, Diane Arbus, Richard Avedon - and asked the children what they thought was being communicated when they looked at the images of these works. They discussed the phenomena of a 'selfie' and the difference between a selfie and a self-portrait. Dragana presented to the children the idea that a selfie is about how we look, as opposed to how we feel, and asked if the selfie could be re-formatted in order to become about how we feel. Dragana also discussed with them the idea of truthfulness in photography and showed examples of how the personality of photographers influence how their subjects are represented. After her presentation and discussion, they broke into two groups. One group stayed in the classroom and worked in pairs to draw each other's face. The other worked in the garden to mimic the body language of some of the examples of portraits that they had seen in the presentation, considering what this body language and facial expression conveyed. The children readily grasped the concept of constructing and making a photograph and they eagerly worked in teams to embrace the roles of both artist and photographic subject.
....
Stephen Brandes
Edible Artworks
6th Class
13th October 2016
Stephen began his workshop by showing the children some images of his own edible artworks made with the art-food collective The Domestic Godless. These included sea urchin pot noodles, gooseberry jellies that glowed in a room filled with ultra-violet light, strange banquets with glittering octopuses…He told them that food can look like a painting, if the presentation is done well. After this introduction, Stephen split the group into two groups – raisins and nuts. One group created a sweet-tasting 'forest floor' and the other a savoury 'garden floor'. They used a range of ingredients and methods that included using a combination of cream cheese, sour cream and pumpernickel bread to create 'soil' (out of which sprung purple carrots, purple broccoli and more); a batter of flour, sugar, egg, spirulina & wheatgrass microwaved to create 'moss', sprinkled with berries and white beech mushrooms marinated in maple syrup. At the end, the children enjoyed savouring the delectable and unusual tastes and textures in their (mostly healthy) feast of edible artworks.
....
Atsushi Kaga
Interface of Unconnectedness
5th Class
2nd, 10th June 2016
Atsushi touched on the globalised nature of art and culture, such as how contemporary Irish dancing's famous use of tapping, as exemplified in Riverdance, came from famine-time Irish immigrants in New York, who were influenced by the South African gumboot dancing they witnessed there. They listened to Paper Planes by the Sri-Lankan born MIA singing in the hip-hop style that originated from African-Americans living in New York in the 1980s. His rich talk covered many key characters from the history of art and culture; including George Bernard Shaw, Umberto Eco, Leonardo DaVinci, Beethoven, Picasso; all of whom the children and Atsushi sketched. He talked about classical structure in painting and music (DaVinci, Raphael, Beethoven) versus the breaking down of classical structure (Picasso, Miles Davis). He showed how art history can permeate current artforms, such as in the film Frozen - Atsushi started the discussion on this by showing images of the painting The Taking of Christ by Caravaggio (from The National Gallery) and The Swing by Jean-Honoré Fragonard. The children and he discussed the opposing moods in the two paintings – the Baroque style of the Caravaggio with its intense scene enhanced by the dark, rich palette and dramatic light and shadow. This contrasted with the light, playful Rococco style of The Swing with its light colours, soft tones and playful subject matter. Atsushi then showed them clips of the Disney film Frozen, exploring how the differing characters of the two sisters were revealed visually as contrastingly light and serious, through the opposing elements of the Rococco and Baroque style. He spoke to the class about aesthetics, and the difference between beauty in nature, and the beauty of the man-made or in art. He asked them to consider why they might think of something as beautiful. He spoke of beauty having a quality that was out of the ordinary, or surprising. As an example, he showed them a clip of a goal made by the footballer Zidane, and said that the unexpected and skillful way he made this goal made it beautiful.
Telling the children of his plan to make artworks for the garden, Atsushi invited them to conceive their own artworks for the garden. Working collaboratively, they discussed and sketched their ideas in the first workshop, and presented these ideas to the rest of the class. In the second workshop, they used clay and other materials to make individual and collaborative sculptures that they later exhibited in the garden. Ideas generated by the children in this workshop informed Atsushi is the creation of the Tinkerbell-m artwork in the garden (see commission section above for details).
...
STUDENT FEEDBACK | WORKSHOP PROGRAMME

'I liked it because we were creative and I really like art. I used my mind a lot'
- 3rd Class student, 9

'I learned that art is not about perfectness'
- 3rd Class student, 9
'My favourite moment was when we watched our cartoons. It made me feel like a real artist. I learned that it takes patience to make a cartoon'
- 4th Class student, 9
'I learned how to draw better using my inspiration'
- 4th Class student, 10
'I liked that when we drew, the picture came alive like magic. I learned that you can draw and then put it on the computer and it can become real'
- 4th Class student, 10
'I loved it because it was awesome and inspiring and amazing. I learned that you can make stuff out of different materials. '
- 3rd Class student, 9
'I learned that art takes you a lot of days but it is fun'
- 3rd Class student, 9
'I enjoyed making films because I enjoy drawing and now I am making films at home'
- 4th Class student, 10
....